Chatting about Colonoscopy
by Larissa Biggers, on June 27, 2019
This week, the Colon Cancer Coalition hosted a Twitter chat on an important topic—colorectal cancer.
What is a Twitter chat, you may ask (I did too). It's actually a simple concept; a chat is a scheduled conversation on Twitter that focuses on a predetermined topic. Not only do these events let you express your opinion and ask questions, they also provide a forum for meeting other individuals or organizations interested in the same issue, in this case the importance of getting a colonoscopy.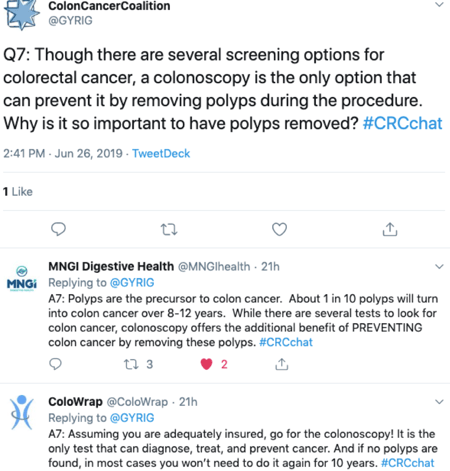 For this week's chat, Dr. David Purdue, gastroenterologist and Chief Medical Officer with MNGI Digestive Health was the invited guest. He provided his expert opinion and answered questions from fellow chatters. Even though participating in a public, online chat about colonoscopy might seem intimidating at first, it was easy, fun, and educational. Here are some highlights of the event, divided by topic.
Bowel Prep for Colonoscopy: Getting Better All the Time
Participants agreed that most preps work well, but there are factors to consider when selecting one: cost and insurance coverage; taste (some are sweet, while others are salty); and pre-existing conditions such as kidney problems. It is important to talk to your provider about any health conditions your have before your prep.
As hard as it is to limit what you consume before your procedure, it's essential to follow instructions so you don't have to repeat the prep process. One chatter commented, "You want to follow your prep so that you only have to do it one time. Having bad prep can result in a second colonoscopy in your future."
Beyond the inconvenience factor of a repeat procedure, prep quality is directly related to a physician's ability to find and remove polyps and therefore prevent colon cancer. A good prep allows for the greatest visibility of the colon wall and polyps, some of which can be flat and hard to see.
"Split preps" are becoming more common. With a split prep, a patient drinks half of the prep solution the evening before the colonoscopy and half the morning of. Clinical studies have shown split preps can do a more thorough "cleaning" job, and they are often better tolerated by patients.
Several chat participants had tips for those who get nauseated as a result of their bowel prep or struggle to drink the required amount. Using a wide-diameter straw and making sure prep is cold (no ice) can be helpful if taste is an issue. And if you can, "keep it fun!"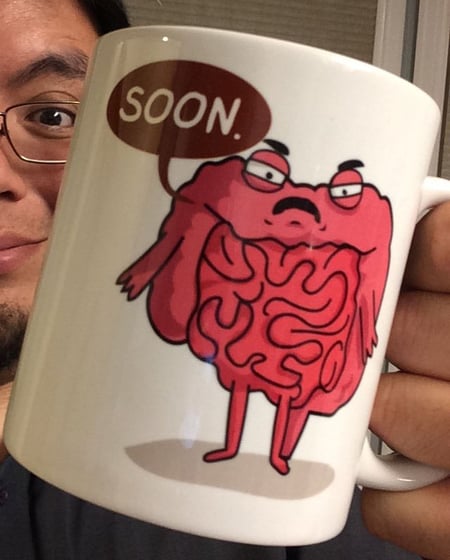 The best prep mug ever
Happily, prep options continue to improve, and the volume of solution patients are required to consume is getting smaller. Still, patients should make note of the phone number included with their prep instructions. Clinic staff are available to answer questions and offer support to ensure patients have the best outcome. They want to avoid repeat colonoscopies too!
Colonoscopy: The Best Test
Although there are several screening options for colorectal cancer, colonoscopy is the only one that can prevent the disease by removing polyps during the procedure. Polyps are the precursor to colon cancer. About one in ten will turn into colon cancer over eight to twelve years; that's why it's essential to remove them.
Regarding alternatives to colonoscopy (FIT tests, for instance), if the results are positive, in most cases patients must have a colonoscopy anyway. Some insurers deem these colonoscopies diagnostic (not screening) tests, so patients might have to pay a deductible and co-pay.
The Affordable Care Act requires insurance companies to cover screening colonoscopies. For patients who are under- or uninsured, state health departments, community health centers, and groups like Colon Assist and Operation Access can provide help. The Colon Cancer Coalition pointed chatters to a webpage that includes a tool for matching patients with both gastroenterologists and community health centers.
After Colonoscopy: Bring a Buddy
Chat participants also shared their thoughts on what to expect from doctors and staff post-procedure. First, the physician will discuss what happened during the colonoscopy. If polyps were removed, pathologists will examine them so the doctor can make appropriate recommendations. Nursing staff will review what to do if patients have problems or concerns after they leave the facility. The patient might also be told when to come back for their next colonoscopy, depending on the findings.
While this is all true, many agreed that the perk of having someone with you for your colonoscopy (i.e., your driver) is to let him or her serve as a second set of ears and eyes. Because of anesthesia or nerves, you may not remember the important information covered after your colonoscopy, but they can.
The Colon Cancer Coalition Twitter chat was time well spent (under an hour). Stay tuned for their next one, which will focus on issues relevant to colorectal cancer patients and their caregivers, families, and friends: fertility preservation, tumor markers, hereditary cancer, genetic testing, clinical trials, and facing recurrence.