Gifts for Healthcare Staff This Holiday Season
by Larissa Biggers, on December 13, 2019
While it should be an everyday occurrence, the holiday season is a perfect time to show your staff how much you care. Some businesses give employees time off to rest and relax, but this is not typically feasible in healthcare. Instead, consider gifts such as a catered lunch, a gift card, or a personalized thank-you note—or choose one or more of the options below.
The Gift of Knowledge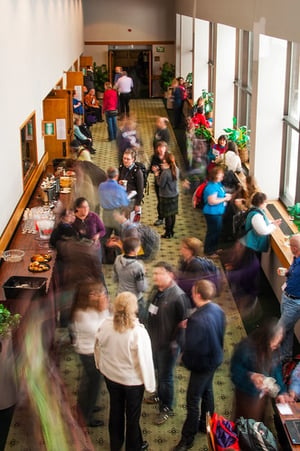 Almost all healthcare professionals welcome the opportunity to attend conferences. There they have the chance to connect with peers, see a new city, and explore the latest research and tools. These opportunities can benefit an entire unit because attendees will return with a head full of knowledge to share with colleagues. Two upcoming safe patient handling conferences (one on the east coast and one on the west) come highly recommended.
2020 ASPHP National SPHM Education Event (San Diego, CA, March 2-5)
National and international speakers will present on topics including OSHA mandates, the science of injury, equipment selection, and more. In addition to keynotes and breakout sessions, attendees can participate in four hours of case-based, hands-on learning focused on the practical application of equipment, devices, and tools across practice settings.
2020 VA Safe Patient Handling and Mobility Conference (Orlando, FL, June 1-5)
The goal of this conference, hosted by the Tampa VA Research and Education Foundation, is to arm participants with the knowledge, skills, and attitudes to make healthcare safer for all staff and patients. Attendees will be exposed to SPHM cutting-edge research, best practices, and lessons learned. The conference includes a variety of learning opportunities such as information sessions, workshops, and a large exhibit hall with new and emerging technologies.
The Gift of Listening
Evidence compiled from labor union reports, interviews, academic studies, and media investigations show that work-related injuries and illnesses in healthcare are vastly under-reported. The reasons for keeping quiet are varied, but healthcare staff often feel that pain and injuries are a normal part of the job. Let your staff know that their concerns are your concerns by administering an injury risk assessment to evaluate the hazards they face as part of the job.

The Gift of Comfort
It is common knowledge that healthcare employees have an injury rate higher than that of any other industry. While you cannot reverse this trend with one gift, you can show staff you care about their well-being.
These EKG-themed compression socks were designed by a trauma nurse who knows what it means to be on your feet for 12+ hours a day. Eighty-four percent of nurses who wear compression socks experience less pain throughout their shift.
For staff with sore, tired muscles, this portable massage roller is a great present. Compact enough to use with one hand, it is especially recommended for the neck, arms and hands.
The Gift of Camaraderie
Membership in a professional society can be a gift for both you and your employees, offering perks like the latest news on industry trends and evidence-based practice, free or discounted education, and opportunities to network with like-minded peers. Your staff can advance their careers and even get certified in their area of expertise.
The Gift of Safety
In endoscopy, one out of every two staff suffer injury due to the physical demands of assisting with colonoscopy. Specifically, endoscopy nurses and technicians routinely apply 30 to 115 pounds of force to a patient's abdomen per case. Not surprisingly, these physical maneuvers have been deemed ergonomically unsafe. Protect your staff with the gift of ColoWrap. It eliminates the need for abdominal pressure in up to 90% of cases, greatly reducing the likelihood of injury. Your Risk Management department will thank you too!