A Good Endoscopy Nurse Is Hard to Find
by Larissa Biggers, on July 12, 2019
Employment of registered nurses is expected to increase 15% from 2016 to 2026, according to the Bureau of Labor Statistics. This is a far faster rate than for any other occupation. The growth will likely be driven by a variety of factors, including the rising number of chronic conditions, such as diabetes and obesity, and demand for healthcare services from the baby boom population, who are living longer than previous generations. In the field of endoscopy specifically, RNs will see a job growth rate of 26% by 2022.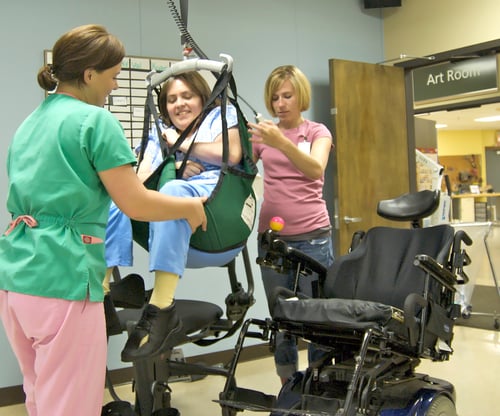 Nurses using SPHM equipment
This trend might be favorable for job seekers, but how will hospitals and other healthcare facilities keep up? A 2018 American Nurse Today survey found that staffing challenges are serious; 51.2% of respondents reported more open positions than in the past, and 63% indicated that recruiting RNs is more difficult. Lisa Fleming, a veteran endoscopy nurse manager at Highland Hospital adds her perspective, "I feel that in a hospital setting it is very difficult to find qualified staff. Most of the trained endo nurses leave a hospital setting to seek out employment in free-standing endo/surgical centers. Our unit staffing is fed from the hospital inpatient units, where nurses work for approximately two to three years and seek alternatives to shift work and rotating weekend commitments."
The investment that one unit must make to locate and hire a new RN can be substantial, especially because it can take many months to complete this process. The drain on time and resources does not stop once nurses are hired. New employees must be trained, which requires commitment on the part of the new hire and the trainer. Fleming notes, "It takes about one year to fully train a competent endoscopy nurse. The nurse must be competent in administering IV sedation and assisting the provider with all equipment used in the endoscopy suite. This is a generalization, as it may take even longer to learn procedures that are not performed regularly, such as advanced endoscopic procedures."
Given the difficulty, time, and expense of finding, hiring, and training nurses, employers should focus not only on recruiting, but also retaining RNs. Replacing a nurse can cost 1.2 to 1.3 times his or her annual salary—and even more if the nurse has specialized training. Here are a few ways to head off the problem.
1. Hire smart
Fleming recommends hiring seasoned nurses. "There may be an initial investment of dollars up front, but it is well worth the expense. The experienced staff member takes less time to train and be deemed competent; they contribute to workflow efficiencies in a much quicker manner than someone who is unexperienced. I would also add that unit quality and safety [remains] stable, as the experienced staff member is already cued in to and in tune with the inner workings of an endo unit." When qualified, but less experienced nurses are hired, it is essential they are thoroughly trained on everything, from pre-op procedures to taking call to workplace culture.
2. Educate
Good employees are less likely to leave a job if they know they can advance and grow. Options for education can include informal on-the-job training, career ladders, opportunities to attend professional conferences, or tuition assistance for nurses who want to complete a master's program. The ability to continually advance and take on leadership role keeps employees engaged, and the knowledge they gain can benefit the entire unit.
3. Protect
Nurses are more likely to suffer a job-related injury than any other profession in the United States, and because applying abdominal pressure and/or repositioning patients is required in up to 90% of colonoscopies, the risk of injury can be even greater for endoscopy nurses. In fact, one of every two endoscopy staff will suffer a work-related musculoskeletal injury. When facilities invest in their nurses' well-being with safe patient handling equipment, nurses are not just protected from injury, they feel protected from injury.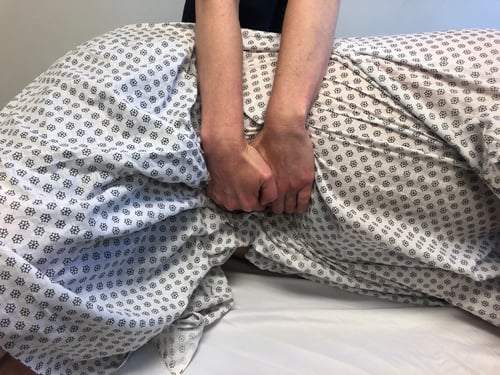 Nurse applying abdominal pressure during colonoscopy
4. Respect
Fleming does not have an issue retaining GI nurses and/or techs in her unit, in large part because she respects their individual needs and listens when they have a problem or an idea or just need to vent. "I have a significant amount of longevity among nurses and endo technicians. I support a culture of work-life balance within my unit and my staff knows this and appreciates it."
HR professionals in healthcare echo her sentiments. First, hire the best people. Then create a positive workplace culture through education, protection, and respect—that is the most effective way to retain nursing talent.
---

Special thanks to Lisa Fleming, MS, RN, CGRN, Nurse Manager at Highland Procedures Center for her contribution.